The 11th and last episode for the fifth season of the anime based on Kafka Asagiri and Sango Harukawa's Bungo Stray Dogs manga closed with the words "To Be Continued" on Wednesday. Technically, the episode's ending caption in Japanese wrongly indicated that the job was "finished," but the anime's official website noted on Friday that the text was a mistake, and the text should indeed truly say "To Be Continued." The team will repair the error in the Blu-ray Disc/DVD release. Crunchyroll's subtitle for the ending caption reads "To Be Continued."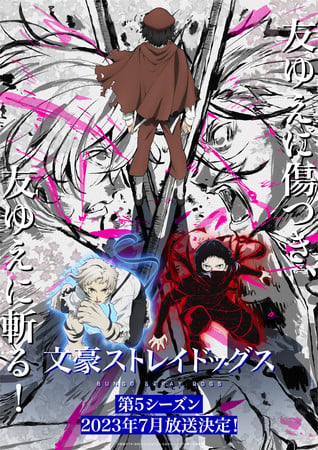 The staff have not formally announced the upcoming season, but it has teased it.
The anime premiered on July 12. Crunchyroll broadcast the new season as it aired, and started streaming an English version on July 26. Crunchyroll summarizes the series:
Following each arrest of a detective employee, Tenjin Goshui chief Kamui moves closer to the Armed Detective Agency. Will the Agency survive?!
GRANRODEO sings the show's opening theme song "Kurogane no Ori" (Iron Cell), while Luck Life performs the ending theme song "Kiseki" (Trails).